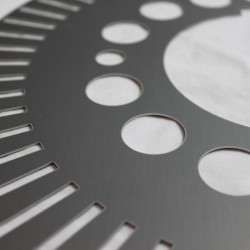 What We Do
Superior Services employs an experienced and talented staff willing to take on any challenge. Our staff works one-on-one with manufacturers and engineers to guarantee satisfaction of each project.
At Superior Services time is money, therefore, we return proposed quotes to customers within an hour. Our knowledgeable staff has the capability to duplicate parts and program technology in minutes.
Unlike other companies, Superior Services uses only nitrogen to achieve the most precise cut. We are able to perform cuts on a range of materials such as: mild steel, stainless steel, aluminum and much more.
From prototype to production, we are capable of producing desired products out of the following:
CAD design (dxf, dwg, etc.)
Reverse engineering
Exact part duplication
 Programming for skewed laminationsme
Here is just a glimpse of how Superior Services uses the latest technology for laser cutting laminations.
See Why Superior Services is a Cut Above The Rest!